Advertising


NicheLabs will help consumers sell their scrap gold
Anyone who has ever tried to sell scrap jewelry to a precious metal dealer knows how confusing it can be. Prices vary from dealer to dealer. How does an inexperienced consumer selling an old broken gold bracelet know good from bad?
A start-up company operating under the name Area Gold Buyers intends to clear up the confusion and has selected Atlanta website design firm NicheLabs to build and launch its new website.
Read More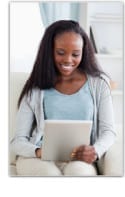 Mobile ad spending in the US is up, up, up!
According to eMarketer.com, in 2012, mobile advertising was up 220% in the US. This figure includes both display advertising and PPC search advertising.
Display ads are brand-building ads, with text, logo and graphics, aimed more at getting your company's name out there than actual conversions. PPC (Pay Per Click) ads, on the other hand, are those all-text "Sponsored Links" that appear at the top of search engine results pages. The most popular PPC service is Google AdWords.
Read More