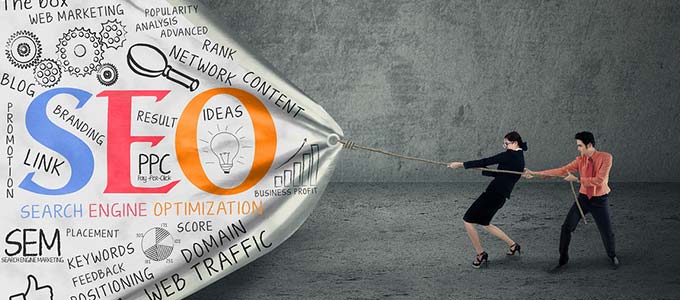 Use a Top SEO Agency or Do It Yourself for Search Engine Marketing
Like it or not, marketing your business involves online marketing. If you are B2C (business-to-consumer), this is obvious. If you are B2B (business-to-business) or B2G (business-to-government), your networking and trade show efforts are still impacted by your online presence. And that's where Google Search Engine Marketing is required.
Yes, required; not an option. The question is only if you spend time to learn and keep up, or if you use a top SEO agency — or a recent college graduate.
Search Engine Marketing evolves because Google is smart. Top SEO agencies listen, test and execute different tactics because Google continues to get smarter so that their results are more and more relevant to those who are searching.
Google's algorithm change in May was a quiet next step although few of our clients knew about it. Most people were aware of Google's "Mobilegeddon" change in April, where they starting identifying and ranking websites in mobile searches based on the sites being mobile-friendly. We saw and continue to see a large jump in clients changing their website design to be responsive to different device and screen sizes instead of websites designed only for desktop/laptop viewing. Responsive website designs integrate mobile, tablet and desktop viewing into a singularly managed site instead of the independent desktop and mobile sites of five years ago.
A top SEO agency knows how Google's changes in May require website owners to improve their websites to competitively rank in Google's algorithm. To keep up with the changes, it's your business to do this on your own, ask a recent college graduate to do it for you, or talk with a top SEO agency like NicheLabs.
Do you have customer testimonials? Do you have stories to tell? Do you have someone who likes to write – or at least tell stories? Do you have partners or organizations that would like to help you? Do you have product videos? These are all part of Google's recent changes.
Believing you don't have the time to acquire the knowledge of a top SEO agency, find someone who will
• Customize an SEO strategy to your specific business and industry
• Customize an SEO strategy to your company's strengths
• Customize an SEO strategy to your company's resources
Not sure about selecting a top SEO agency or using a recent college grad? We're ready to share more thoughts with you; just ask us. For more tips and insights about attracting more business through Search Engine Marketing, connect with us on Facebook, LinkedIn or Twitter or subscribe to our monthly newsletter to read summaries of our weekly posts. To speak with our team, please email us using our website contact form, or call us at 888.978.9254.